The 11 Best Shopping Sites You've Never Heard Of
As you're browsing Pinterest, Instagram or Tumblr, trying to procrastinate from whatever pressing homework you probably should have done already, it's common to come across a shopping site you've never heard of. How can you know if a particular site is legit? Who even has time to research to find out?
Luckily, you have us at Her Campus to do it for you. We love online shopping just as much as (if not more than) the next girl, so when it comes to feeding our style addiction, we know how important it is to research and compare sites. If you're tired to scrolling through your go-to sites and feel like you're no longer digging what they have to offer, then it may be time to check out some new offerings. These are our favorite online shopping sites (that you've probably never heard of!).
1. Ruche (shopruche.com)
Full of pretty, vintage-inspired dresses and tops, Ruche is an indie girl's shopping heaven. If you're into lace detailing and floral prints, check out their collection of clothes, accessories and shoes. Some of our favorite items include an ethereal blue faux-wrap dress ($62.99), this dreamy jeweled statement necklace ($24.99) and these fun yet functional woven sandals ($38.99). There's also an adorable home décor section stocked with cookbooks, notebooks and candles.
2. Pixie Market (pixiemarket.com)
This NY-based retailer stocks flirty dresses and girly accessories, all at a collegiette-friendly price. Pixie Market also curates a "$20$30$40" sale section, where nothing passes $40, making it a great place to score an awesome deal. If you're a new-age flower child, you'll love this white summer lace dress ($62). Lovers of modern vintage will love Pixie Market's selection, too, especially this crop top and short set ($65). We could scroll through their website for hours; it's absolute perfection.
3. DailyLook (dailylook.com)

Los Angeles retailer DailyLook offers a full styling experience for customers. When you choose a shirt on their site, for instance, complementing shorts, shoes and accessories (chosen by the site's stylists) will show up on the sidebar to help you create an entire look. You can even chat with a stylist while you're shopping for suggestions and answers to questions about sizing and shipping. Because the site is based in California, the aesthetic is very surfer-girl chic—think burnout tees, crop tops and super-short shorts. We're obsessed with thismusic-festival-ready crop top ($39.99) and this sexy yet chic trapeze dress ($29.99)
4. 2020AVE (shop.2020ave.com)
2020AVE, also based in LA, is curated for what founders Brian Kim and Eric Hwang call "your inner fashion rebel." The entire site is affordable, with dozens of dresses, tops and bottoms to choose from. We're coveting a pair of their lounge shorts ($22) and jagged-edge watercolor skort ($38). Under the "Lookbooks" tab are small, aptly-named curated shops, like "Wild Thing" and "Diamond Girl." Within these smaller shops are collections of similarly styled separates for you to mix and match to create an entire look. We want literally everything.
5. Wanderlust + Co (wanderlustandco.com)
We are big fans of this Melbourne, Australia-based jewelry company, which launched in 2010 and has since taken over our Pinterest feeds. Shipping is free on orders over $50, which isn't a hard number to reach given the wealth of beautiful, delicate rings and chunky necklaces on the site. Wanderlust + Co is popular all over the world, and it's no wonder why. This spiked gunmetal necklace ($55) is enough to capture our hearts, let alone this sweet ring ($35), which says "oui" (coincidentally, the same thing we said to this website!).
6. Sosie (shopsosie.com)
If you're looking to update your wardrobe for spring without breaking the bank, check out this online retailer for pretty pastels and cute cutouts. A bright floral skirt ($33) will carry you from class to work to the library, and when Friday night comes along, you can slip into abright romper ($39) to dance the night away. While you're shopping, be sure to peruse the accessory section of the website as well for unique,hipster-esque pieces, like the Minal necklace ($19) or the Roadtripper aviator sunglasses in black ($16).
7. PUBLIK (shoppublik.com)
This trend-conscious site sells sweet and reasonably priced clothes, such as summery tie-dye dresses ($26), navy floral overalls ($29) (need!) and some pretty sweet bling, like this necklace, which will only run you $26. Shipping is free for orders over $75, and they also have a pretty solid sale section.
8. River Island (us.riverisland.com)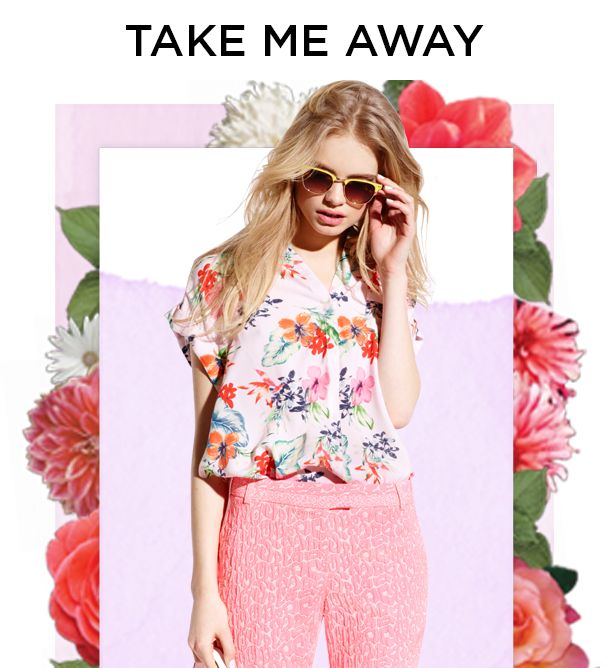 Our friends in the UK have known about River Island forever, but the retailer is just starting to get popular here in the U.S. The dominant style is reminiscent of Topshop or Urban Outfitters, and although stores have popped up all over the UK, the only way the U.S. has access to their affordable style is online. Because we're digging all things that remind us summer is just around the corner, we can't get over this pineapple crop top ($30) and this floral necklace ($30). Luckily, they ship overseas!
9. Pree Brulée (preebrulee.com)
Pree Brulée may be the most adorable online jewelry store we've ever seen. Each order comes packaged in a charming box, and a lot of the pieces are sparkly, so we. Are. Sold. Items sell out relatively quickly, so make sure to jump on something if you think you can't live without it. We're currently lusting after the Paris Fashion Week statement necklace ($68), which is pure sparkly gloriousness, and this super-girly pink glitter watch ($48), which looks like something you could buy from a candy store. Yum!
10. Necessary Clothing (necessaryclothing.com)
Though this store doesn't operate completely online (there are a few NYC store locations), most of us can only browse the racks of Necessary Clothing, a brand that Pinterest users are obsessed with, though their online store. The looks are super hip, like a true New Yorker is, but allow you to look style-blogger chic without busting your budget. Crocheted tops ($24.99) will be perfect for hanging out on rooftop bars or at beach bonfires this summer, while a pair of tie-dye shorts ($18.99) will be ideal for throwing on before heading to lay out at the pool. Be sure tobrowse their blog while you're shopping for major style inspiration!
11. Choies (choies.com)
It takes a little bit of stamina to get through this street-style driven site, but the free international shipping and awesome deals make it worth it. Stay focused and search their items for Tumblr-worthy separates, cat-printed leggings ($19.99) (we want them; don't judge!), and more crop tops than you'll know what to do with. We suggest clearing your schedule, because you're going to want to dedicate a few good hours to browsing.
We obviously love online shopping. It's not an addiction, though; it's a lifestyle.
Share:
loading...